Toronto
Guest Charlo Greene
By Al Graham
During the month of January I was invited by my very good friend Erin "Butterfly" Maloughney to attend an event by Women Grow Toronto. Women Grow got started in Denver Colorado and was "created to connect, educate, inspire and empower the next generation of cannabis industry leaders by creating programs, community and events for aspiring and current business executives." It is a non-profit organization that "that serves as a catalyst for women to influence and succeed in the cannabis industry as the end of marijuana prohibition occurs on a national scale". They have 33 branches in USA and Canada and are planning on expanding to 64 by the end of 2016. Besides Toronto, Women Grow has Canadian locations in the cities of Vancouver, Kootenay , on Vancouver Island and has a new one opening up soon in Hamilton Ontario.

---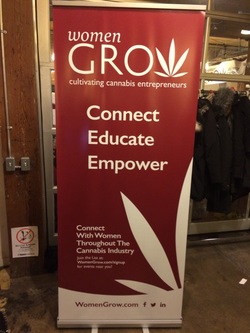 The Women Grow Toronto group gathers together on a monthly basis to allow women a way to meet up and grow networks of communication and share ideas. During these meetings they have a keynote speaker which in the past has included Mandy McKnight who became an accidental medical cannabis advocate because of the benefits of cannabis to her son, Charlo Freedom who spoke on how to make cannabis infused lotions, salves and balms along with Amy Brown, owner of CannDo a Toronto cannabis wellness center who helps the homeless.

For this evenings event the crowd packed the location we were in which spilled into the hallway outside the room. When things got going the evening's Master of Ceremony, Tracy Curly, took to the microphone and shared some local cannabis news as well as telling everyone some information about their key note speaker Charlo Greene.

Following Tracy was Theresa Kozak, who is the manager of the community engagement centers for Better by Tweed. Better, as it is known now, was once called MedCannAccess the former compassion center and resource center located in Toronto. Theresa talked about some of the outreach programs they were involved in that includes talking to business and medical groups to helping to collect food for the food banks, clothing for homeless and holding informational workshops.

---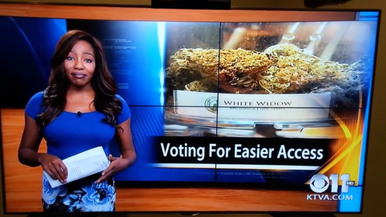 When it came to their keynote speaker MC Tracey Curly introduced everyone to Charlo Green who "became a recognized leader in cannabis activism in September 2014, when she punctuated her on-air report on the Alaska Cannabis Club with the bombshell that she was the club's founder and owner, proudly declared her activism and signed off for the last time with, "F*ck it, I quit…"" according to her website.
Charlo got things going by letting everyone know that she wasn't the only black person in Alaska because she had a partner who is also black. But that's when the jokes ended and she got serious.
When Charlo started her speech she talked about how her mother inspired her to do things to her life on the farm. She shared a story of making her own garments to having to walk five miles to the local market. As she grew older she wanted to become a reporter to help shine light on injustices but struggled with alcohol while in college. If it wasn't for a friend who stepped in to help her she may never have finished.
She has opened the
Alaska Cannabis Club
, which is private to help serve the needs of the community. The club is "Alaska's FIRST and ONLY legal cannabis resource" with a team that "has extensive experience in medical and recreational cannabis provision, grass roots activism, public education, and cannabis law reform efforts." according to the ACC.
---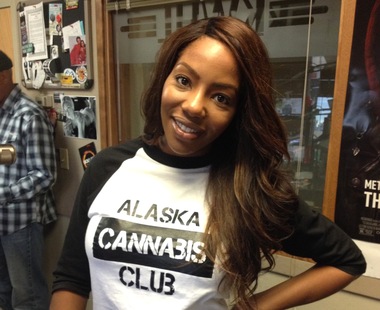 Charlo told us about a frightening experience of a 72yr old patient of the ACC who was robbed twice at gunpoint to working with the youngest patient who was dealing with cancer. She talked in length about the importance of educating people whether it was medical or for legalization and encouraged people to continue. Even though our country and her state have legalized or are working on it. Following her speech the over flowing crowd erupted into a huge round of applause in appreciation of what she had shared with them.
Following Charlo's talk everyone participated in the door prizes draws and took take time to network with the others in attendance. Following this great evening people were invited to attend a fundraiser for Charlo's charity that was held a couple days later on a Saturday night. All reports say that the gala was very well received as this evening was, by all who attended.
You can learn more about Charlo and her efforts by going to
Charlogreen.com
and
GoGreene.org
.
Just as I finished up this article I asked the Toronto's group's Chairperson Lisa Campbell if there was anything left to add. She told me that she and some of the ladies had just returned from the USA where they attended "the National Leadership Summit in Denver, and singer Melissa Etheridge was one of the keynotes, along with Canadians Renee Gagnon, and Jazmin Victoria Hupp who is the founder of Women Grow" and that they had a very informative and educational time away.
---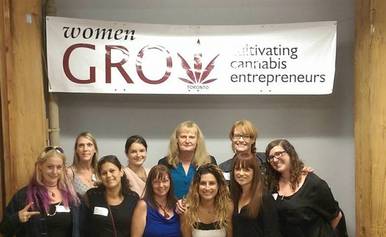 Women Grow Toronto consist of Chairperson Lisa Campbell and Vice Chair Jenna Valleriani with their hard working committee members Tracy Curly, Abigail Sampson, Charleen Freedom, Dessy Pavlova, Jeanette VanderMarel, Sandra Petite and Theresa Kay. If you would like to get involved Women Grow Toronto can be reached at
Toronto@womengrow.com
or on
Facebook
.
Thank you Erin!!!!
---