Vapor Lounges
In my last editorial (
Fear Wins
?) I mentioned that I would have some information in regards to what is offered at vapor lounges. Back in 2012 three friends and I got together to help me write a vapor lounge review for Treating Yourself Magazine. While it's been four years since we did that the information and what is offered is basically the same. What is different is the numbers of them as some have closed and others have opened since that article was published.
For our review we looked at everything from access, entertainment, food and how people could consume their medication plus a few other things such lighting and bathrooms.
---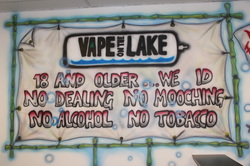 What we found out overall was that the lounges were self-regulating themselves as there were no laws for or against them. They operated similar to a place that serves alcohol except without all the problems that the over consumption of alcohol brings.

All the locations had a policy that no minors were allowed and ID was required if asked to prove it. All of them had no tobacco smoking policies which is also a provincial law. Like a bar the lounges offer entertainment in the form of bands and comedy plus other special event nights.

---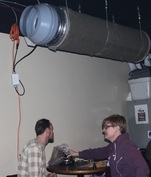 While these locations are "vapor" lounges most of them allow you to smoke joints to using bongs as well as the vaporizers. To deal with the smoke most but not all the locations that we visited had some type of smoke ventilation. This would include exhaust fans to running a few large air filters throughout the location.

---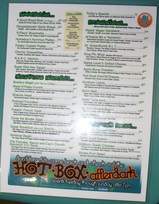 At a bar you buy an alcohol drink, in a lounge you can rent a vaporizer or a bong. Not only do they rent these items but many also sell food which includes snacks to a full meal. All of the locations were clean and were well staffed.

When it comes to the police and their visits, back in 2012 a report put out by the city of Toronto stated that over a ten year period there had been only 76 interactions with the lounges. This would include a stop in to say hi to a possible complaint. These are numbers that could possibly be reached and exceeded weekly in the cities entertainment district.

---
Personally I have been to these lounges numerous times. I've seen no problems and have had none myself. I visit them to meet up with other medical friends as lounges give medial patients a place to be part of society and not be held captive in our own homes. They give patients who travel a place to medicate safely without going to the alley.
When it comes to Bill 45 and the provinces concerns, I still don't know what scientific evidence they are using to say cannabis vapor is dangerous to an adult. But if it's the smoke they are worried about why shut down business that pay taxes, creates jobs, clean up the neighbourhoods to getting involved in their local BIA over smoke when there are options.
If you want to help save the vapor lounges, have a cannabis business or would like more information please visit the Cannabis Friendly Business Association (CFBA) at
http://www.cannabizassociation.ca/
Al Graham

---