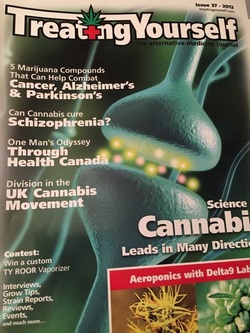 Together Again

By Al Graham

Treating Yourself Magazine maybe gone but it's not forgotten. Our Keeping PACE article which appears here every month originally started out in TY. It was written by me then as it is now. Its purpose was to highlight and show what some grassroots advocates have been doing to create change. These events could be a 420 rally to an advocate hosting something small at home. From there its purpose was to encourage others to do the same thing.

The publisher of Treating Yourself (TY) Marco Renda seemed to agree as every issue had something on what TY was doing to educate the masses. The TY articles involved large events that included the nation's largest trade shows where it had a vendor's booth. Many agreed that this was ground breaking because when it came to these really large events, TY was the only cannabis booth present reaching out to the general public. I know myself and many others who volunteered enjoyed interacting with the public, especially those who didn't expect to see a cannabis booth at a home show.


---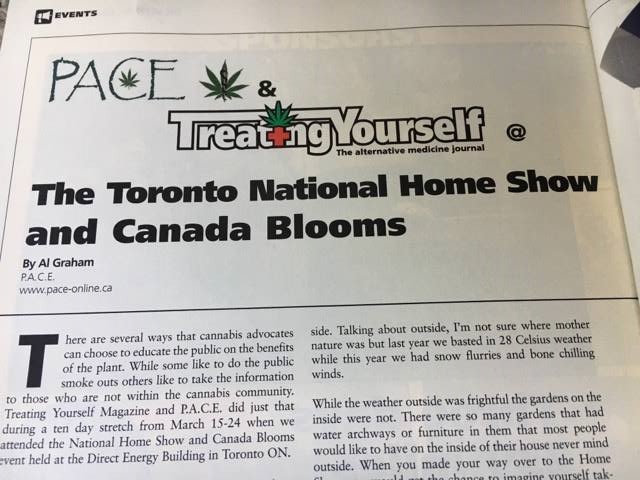 During these times the volunteers found that there was no other feeling than talking to a person, who was against cannabis, and then turning them 180 degrees. Some said they could feel the glowing happening on the inside. An example would be when a man in a wheel chair came past our booth. We offered him and his wife a magazine but they declined it partially because he had just had heart stents implanted. It turns out the issue of TY on the table had an article about heart stents and cannabis which perked their attention. This couple who thought they were just going to walk by ended up spending 45mins with us and went home with a magazine.

When it came to the wellness shows, The National Women's Show and even the National Home Show we were often visited by PSW's to nurses. The conversations always turned to a patient they knew who was medicating but doing so privately. I also think all the shows brought the same question, "got any samples?" where we'd let them know they could have a free sample of TY.

For several years PACE would attend the Toronto Global Marijuana March but back then the crowds were massive and the location where it was held was very festive. Being able to get pictures from advantage points along the route to getting a media pass to get on stage with the speakers was always exciting.

Probably, the most exciting article for PACE, was writing about the TY Expo's. Why? Because I had expected a professional to do it, not an advocate with a grade 10 english like myself. It was a challenge and rather large but it got done. Collecting all the information to write about it was huge. The first year there was not only the vending part of the expo but also the hemp clothing show, the comedians, the speakers, the Global Marijuana Music Awards and so much more.


The most researched article we were involved in was published in Issue 34. This one was a 17 page review of all of the TO vapor lounges. It was a suggestion of Marco's that we ran with. It took 4 of us to do the review which included my friends Scott, Glenn, Erin participating in the research. Glenn had never visited a lounge so it was quite the eye opener for him. We looked at everything that you could think of. Ventilation, food, access, parking, washrooms, entertainment, bong rentals plus much much more were covered in the article. Some of the lounges even removed it from the magazine and put it into a binder to help others see and read it.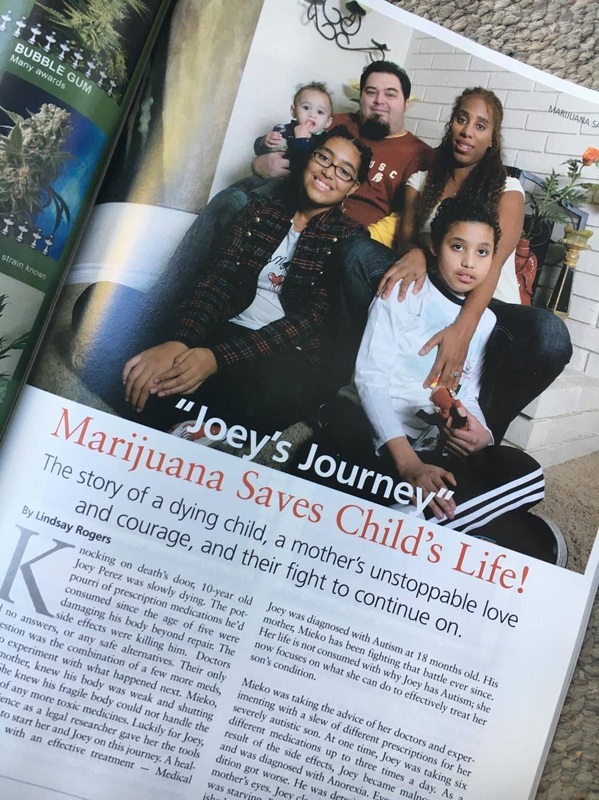 But TY was more than TY and PACE articles. It had the fantastic artwork of Georgia Toons which is now available on page 2 of this publication. There were articles about patients and their struggles but also of the success of cannabis. There were also recipes, strain reviews as well as the big important one, a medicinal article.

It was these "timeless" medical articles that so many people were interested in. They were used to not only educate the advocates but also mom's dads, the next door neighbor and people's doctors. They would help explain the science around cannabis and if someone wanted to learn more, many of them came with the resource links included.


Treating Yourself Magazine was something that many people expected to see bi-monthly, to many it was a way to make change and a way to spread the truth. It was available not only in Canada but also in the USA and in many countries within Europe. Unfortunately everything came to an end in 2013. That's when after 8 years it stopped being published.
So what happened to TY since then? Well without being published it's been very quiet and to some, maybe even forgotten.
Where are all the past issues or did every issue sell out? If not sold, were they destroyed or stored? Well I'm happy to say that they have all been stored during this time. I'm also happy to say that these past issues are now available and will once again be put to good use.
People Advocating Cannabis Education has recently received all of the past issues of TY and will be distributing them to businesses in the south eastern part of Ontario. There are also plans to expand on this as we figure things out. We would like to say "thank you" to Marco Renda for this generous donation of educational information. It will be shared and TY will continue to educate people.
So if you're looking for a certain issue of TY or would like some to help spread cannabis education, you can contact us via our website at
http://pace-online.ca/