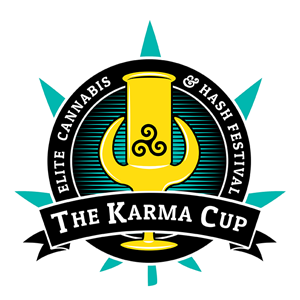 The 420 Road Show @The Karma Cup

By Al Graham

We know of karma coming in two forms, good and bad. So what is a Karma Cup then? Well the cup version is a contest amongst cannabis growers and extract specialists. It's a time to allow others to judge your product and to see how it matches up against those who may believe that they have the best stuff around.

The Karma Cup held in Toronto on Oct 22-23/16 was originally set up a few years ago as a contest that included judging and an awards banquet but this year chose to expand on things. This little expansion included allowing vendors to participate, the addition of a vapor tent as well as the NORML Canada Conference and the inclusion of the regular public thus creating a festival.

Sarah Sunday and her small crew of helpers did a wonderful job getting everything ready. The information was out, tickets were sold, vendors were already to go and their lay out at Polsen Pier in Toronto looked great. That was until three days before the event.

With everything set and ready to go the City of Toronto decided that this event wasn't going to happen and pulled the permits on it. As we know with no permits there would be no event but the city must have thought Sarah and her crew were a "bunch of pot heads". Well they sure proved the city wrong.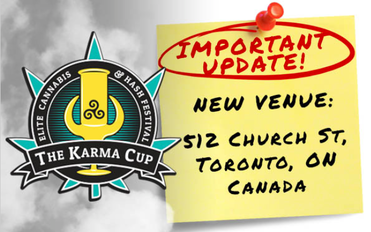 The action by the city didn't divide people with arguments and battles but ended up being a catalyst to bringing Toronto's cannabis community together. Phone calls were made, suggestions flew around and people worked together to help make this event happen.

Within 48hours the location had changed from a parking lot near the lake front to a much smaller and private one located on Church St. With the changes some vendors decided not to come and some who where a supplier such as the tent people, pulled away from it. But this didn't stop anything. In order to keep everyone informed updates where constantly posted online and shared by many and then many more.

As with some of the other Toronto cannabis events The 420 Road Show crew at Lifestyle Radio.ca was granted permission to do a live on location broadcast. It was decided that Al Rapp, Kim Cooper and I would go to the event while Ross Middleton would add his voice from home.

---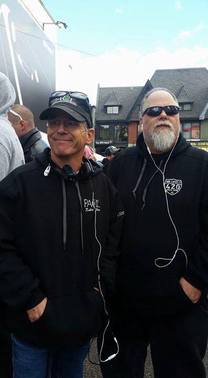 Before heading over to the Karma Cup Al and I met up with our friend Erin Malougney. After a short visit the 3 of us headed over and Erin, due to her judge status, was able to flash her paperwork at the gate and enter whereas Al and I headed to the lineup. It took us about 45mins to get to the gate and just as we entered I looked back and noticed that the line had gotten longer.

After a tour of the place and setting up some interviews with the vendors Al and I headed over to the new Cannabis Culture store that was located across the street. Marc Emery who I had seen when we arrived opened his doors to everyone that weekend. Customers could enter the lounge with no charge and people had access to the washrooms all weekend long. Once inside people would not only see the usually papers to bongs on display but they also saw 20 strains of cannabis that they could purchase.


---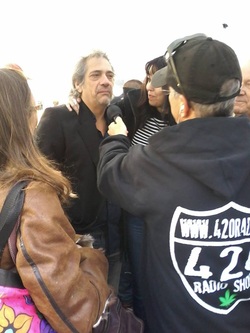 Also helping out to make this all happen was Vapor Central, a well-known cannabis vapor lounge located a 10min walk from there. All weekend long VC allowed people into their venue for free and let them enjoy or participate in the many panel discussions that NORML Canada was hosting. They also hosted the Karma Cup award show that was a packed house on Sunday.

When we arrived back to the Karma Cups vending area which was home to 30 different companies, we got set up for our live broadcast. Our first guest was John Vergodoes of Skunk Magazine. John was there debuting his new advocate and patient magazine Highway. We also got to many others including Chris from Thompson Caribou and Shawn from Chronic Canvas who had some out of this world cannabis photography. And we can't forget our interesting conversation with Patrick "Redbeard" Vrolyk the glass blowing artist who created the events trophies. As far as our conversation, let's just say describing the glass art he was carrying, some may believe it was rated 18+.

---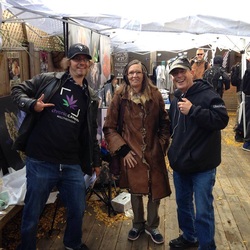 Throughout the day we got to speak with festival goers as we played bumper bodies in the packed vending area. An area which just kept filling and filling as the line out front never seemed to get any shorter. We even enjoyed some medicated hot chocolates that helped keep us warm on this cool day.

When the day light ended Saturday night brought the Karma Cup dinner and comedy show followed by music at Lee's Palace.

Even though we had done some interviews there were more to be done so it was decided that we would do another broadcast on Sunday. During the day we did many more interviews including Kim's joint interview with Sarah of Craft Cannabis and Adam Greenblatt of Tweed Inc while I spoke with Matt Beren of The Green Gardner and Dave at Errlectric. We were also able to talk to Amy Brown about being on one of the NORML discussion panels, what they discussed as well as finding out about her Cookies and Cannabis assistance program for the homeless. While named that, her efforts include helping the homeless with a new winter coat, boots, mitts and "even a bra" plus much more.

The crowd on Sunday was almost as large as Saturdays. While I don't know any attendance figures we were told 650 entered through the gate during the first hour of Sunday's opening. This tells me that several several thousand passed through it during the weekend. With these types of numbers it sort of tells us that Al was correct when he said "the event flipped the bird at the city".

---