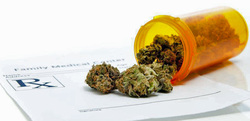 Storefront Compassion

By Al Graham

I remember a time when compassion centers were a quiet and a much protected business. They weren't places that had flashing lights or were even seen when you drove by them. There was also a time when members had to agree not to inform anyone of where they were located. If you did then you risked losing your membership.

But now things are different. With the Supreme Court of Canada ruling in the Own Smith case that licensed producers were allowed to sell to patients, things seem to have taken off. The province of British Columbia has always been a place where people could find walk in dispensaries but here in Ontario you couldn't do that or at least wasn't being done. That is until recently as the store front models have made their way to the City of Toronto.

I had seen this in the news and had heard that there were quite a few of them setting up in the Kensington Market and the surrounding area of the city. With this in mind Erin "Butterfly" Malougney and I decided to take some time and check these new places out. Our plan was to do a meet and greet with some of these locations and find out a bit about them. What we weren't doing was playing a game by tricking them into selling us cannabis without the proper paperwork, which all of the places we visited required. We also didn't rate them or anything else because as I said we were out doing a meet and greet. As a patient advocate I like to have an idea on where I'm sending people to as I don't want to send them to a place that I wouldn't even go near myself.

We also didn't visit the clubs that are more secretive such the ones I described above, the secretive ones. The places we did visit where the ones that I describe as the new generation for Toronto, the store front.

When we got started we decided that we would check out Toronto Medical Dispensary and Compassion Center (TMD) located on Yonge St. When we arrived we were greeted by TMD's Manager Pattel Simms. Pattel took us for a tour of the place where we saw brightly light cabinets with medication on display, including alternative choices. The whole place was clean and well kept. There was a section where a nice comfortable couch was placed where patients could sit and read the local newspaper to an educational cannabis book. Once we were done touring around the inside Pattel took us to an outside location where they have plans on opening an outdoor patio. They hope to have this ready for patients to enjoy come summer.

Our next stop on our journey was to a place called Toronto Holistic Cannabinods (THC) within the Kensington Market. It was a much smaller place than TMD and due to its size sort of reminded me of a very small cigar store. I say this because it wasn't very big. Once you walked in the front door there were counters set up with some items for sale within them and along the walls. This included a fridge that contained thc and cbd infused soft drinks which I had never seen before. But as far as an area that holds many people, it wasn't. While there we spoke to the manager Luke Churchill who talked us through the process of becoming a member before giving us an application.

When it comes to the form it asks some basic questions as far as your contact and doctor information. They also ask for your pharmaceutical prescription information and then the most important parts the doctors recommended grams and signature. Once the paper is filled out, the patient returns the application to the center and will become a member. At this point they would be allowed to purchase their medication. This process was basically the same all day long with only some minor differences.

Once we left the THC we made our way over and into Cannawide Top Shelf. Erin and I were greeted by Jason Braun who was very pleasant with us. The location has full front windows which helped the place light up. Like the others they too had counter glass cabinets with the many options that people had which included many oils, tinctures and dried herbs.

When we left Cannawide we headed up the side walk heading to Kind Supply beside the Hot Box Café. But before we got there we saw a sign directing people to the Canadian Compassion Dispensary. Erin and I looked at each other and then headed up the stairs and in the door where we met a couple of people. We had a good chat sharing some stories and explaining our day trip. One guy was interested in the area where I live when I told him we had no compassion centers. We also checked out their display case that included vape pens which I hadn't noticed anywhere else. Others may have offered the pens but I hadn't noticed them.

Next up was Kind Supply. It was a good size and seemed to offer an area where patients may be able to medicate. Our budtender was a very friendly lady who talked about the many things that they offered including the RSO that they had in their display cabinet. She reviewed their process with us and like the other shops didn't try or even attempt to sell us anything, not even a joint.

The final stop on our day was to the 416 Medicinal Health Center. While it's not in the Kensington Market it didn't take us long to get to it from there. We were greeted by a pleasant gentleman who answered all of our questions and showed us around their nicely laid out location.

A week after Erin and I toured these places we both expectantly met up at the opening of The Care Center. We were both surprised to find each other attending the opening. The two of us and some of our friends, Lynda, Deb and Sandra took some time to sit in the medication area to talk old and future times. Like a lot of places The Care Center have a nicely decorated place and was brightly lit.

Throughout our time touring these places we found that many of the places had friendly staff who were always ready to answer people's questions. Are they the "old school" locations? No. Are they the new wave of things happening in the city? Yes. In the end the choice is yours; your dispensary can be a private location or one that is lit up with the shiny lights. Either way that is for you to decide. Once again THANK YOU Erin for taking time keeping people advocating cannabis education.


---