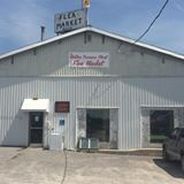 Public Education @ the market

By Al Graham Aug/16

For many years as a cannabis advocate I have spent an unknown amount of time talking to and educating people at non-cannabis events or locations. My first opportunity was years ago with Treating Yourself Magazine during the International Home and Garden Show in Toronto. It was an experience that I enjoyed so much then that I still enjoy doing today, unfortunately it's no longer at the home show or any other large show that TY was a vendor at in the past.

Throughout the years educating at non-cannabis locations has been something PACE has always strived to do. It didn't matter if it was in a small café, being on the news to participating in a film festival, PACE was there. Educating the uneducated or slightly educated is something that I have felt as one of the most important parts in fighting for cannabis law reform. Once you get the people to look at it differently, then slowly the government will follow, as we are now seeing here in Canada and throughout the USA (except for the DEA!).

Now that we are seeing change it's not time to stop and say "mission accomplished" as a former US president said and the war continues for years afterward. Nope it's time to keep educating and spreading the truth because there will be many that will fight to bring back prohibition. The last thing we want to do is stop.

With PACE our public education continues today at the CannaDaze booth inside The Hidden Treasure Chest Flea Market in Trent Hills Ontario. Yes it's a cannabis booth but like with TY we are in an environment where people don't expect to see you there. Doing this was has allowed us to reach out to people who may never walk into a cannabis store but would walk into a flea market without thinking about it.


---
CannaDaze is a licensed retail business that provides people within the small municipality with everything to grow and consume cannabis but the cannabis itself. This includes seeds, growing equipment as well as medicating accessories such as vaporizers and bongs.

Wayne Matheson and his friend Erick Woosely have had the CannaDaze booth in this location while Wayne awaits renovations and inspections at his new store location. Once the store opens he plans on having Erick maintaining the booth at the market as a way to continue reaching these people plus to help promote the store.


While at the market PACE distributes the Cannabis Digest Newspaper and past issues of Treating Yourself Magazine. We also hand out our Cannabis Therapy Links brochure as well as our news and information sharing magazine Grassroots Advocate. While not everyone takes the information, I believe you'd be surprise on how many people do. As with the big Toronto shows many people stop at the booth, who are people that many believe would never stop. Why, because they don't look like the typical stoner promoted on tv and in movies.

The owners of the market Sharon and Al have been very supportive to date and have had to answer many concerns by market goers. While they didn't know us before we arrived they have learned that the booth is run by regular everyday people who are also patients. They have heard and seen us share our stories and help those in need whether it was with information or finding a doctor. I have written many times in the past about the experiences of the people who have helped out at The National Women Show and other shows. How it felt to help educate others to knowing that you have helped a person to become a legal patient. Plus I've also written about the expression on people's faces when they see an unexpected cannabis booth appear out of nowhere. Being at this market is no different; it's just on a smaller scale. The experience can become addictive as all you want to do is help others in becoming a legal patient to educating them.


Wayne and Erick were never able to experience the big city shows but with the experience at the Hidden Treasure Flea Market they now know exactly what I mean.

As with most of the TY shows there is no cannabis on site and as Al the owner says "we follow the rules" which are the same rules all the other vendors are required to follow. One of them is that there is no medicating on the property which we have no problem with as we just go across the road.

The Hidden Treasure Flea Market is like a lot of other markets, people selling their nick knacks to whatever isn't bolted down at home. Because of this you can have people selling similar items but CannaDaze is the only booth offering cannabis themed products. The booth is also one of the largest in the market and it's centralized. This has led to many people coming to us for help with something they spotted or if they have a question.


When the booth space became available last November (2015) Wayne jumped at getting the indoor space and since then CannaDaze has grown. Wayne who started his business as a cannabis advocate holding a rally and a dream of someday having a store is so close to his dream he that he can touch it. It's unfortunate that renovations and inspections are holding him back but the market has been a big help with the growth of CannaDaze. This includes the experience of hearing people share their stories to getting to know people within the area, it's been a big help, not only for us but also for many patients.


PACE would like to say "thank you" to CannaDaze for providing us with a space to educate people and a "thank you" also goes to the market owners Al and Sharon. That is for having the trust in all of us and for allowing cannabis education and a business to be part of your market.