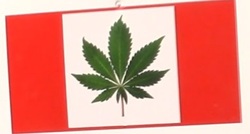 Peterborough Cannabis Day

By Al Graham July/16

While many Canadians are out celebrating Canada Day on July 1st there are many of us who are out celebrating Cannabis Day. While some may not like the connection of the names and the date we are used to people not liking what we do, after all not everyone likes cannabis consumers. For all those who are concerned Wayne tells me that the date will change when cannabis finally becomes legal.

Wayne Matheson, who has been organizing this event for seven years, first got the idea from a group that was doing it in British Columbia. He liked their idea so much that he did the same in Peterborough but with a much smaller gathering.

Every year he gets a committee together to help organize, plan and get the word out about the event. This year he got some extra help as the local television station dropped by for an interview. It was good to see them out covering the event because we know any positive coverage is great to have and see.


---
As time has gone along and things have changed so has the event. It now has a permit to be held in the park which has allowed him to grow things. It now consists of vendors that sell their products which could include a coconut bong to some fancy clothing from Tanks 420 Ware or it could be a booth that is giving away free educational information such as the PACE booth.

CannaDaze which Wayne owns set up a large car shelter in order to protect people from the rain and to set up his cabinets. When he was finished the layout resembled a small store where he could sell his flags, t-shirts, bongs and many other cannabis related items. He had some extra items which he placed in the tent that was holding all of the raffle draws and the prizes.

This year the music shelter was once again set up where Dave Illeagal of The Hotbox Lounge spun tunes throughout the day, even when it rained on us. His selection of music spanned from the early sixties to the new music that is played today. He also made sure to spin some really old and new cannabis related songs.


The Dab Tent returned this year and was sponsored by Xylem Extracts and like in the past it was a hit in more ways than one. People enjoyed the conversations that were being held there as well it gave some people a place to get out of the rain. It also gave some a chance to try dabbing for the first time, which I can say there were several who did.

For the first time that I can remember there were people who attend the event as "speakers" and they travelled far to be here. Michael "Puff Dog" Thomas made the trek from St. Catherines where he was operating Puff Dog's Vapor Lounge and Internet Café until days before this event. Due to a lack of support and expected legal problems with Bill 173 he decided to close the doors. During his speech he spoke about an international group he founded called Dads4Marijuana and how important it was to him. He also reminded the twenty something aged people within the gathering that the battle isn't over yet and they would be expected to pick up the torch to keep things going forward.


Also coming a long way to speak was Jason Wilcox of the Cannabis Rights Coalition. Jason who resides in British Columbia was in the middle of a Cross Canada tour talking about the Allard court decision and educating people with his Planting Seeds of Liberty Tour. When Jason spoke he updated everyone about where things were with the Allard case as well what can possible happen down the road. I hadn't seen Jason since the Owen Smith case was heard before the Supreme Court of Canada so it was good to see him again.
Having the speaker's address the crowd wasn't the only new thing this year. The other was that The 420 Road Show found at
www.420radio.ca
and at LifestyleRadio.ca was in attendance. This show is something new that Al Rapp of LifestyleRadio.ca and I with some help with our friends have started to do. The 420 Road Shows are broadcasted LIVE and will be done when we are attending an event so that we can interview and talk to people in attendance. They also help those who can't be in attendance a chance to feel like they are there while they listen to the broadcast. Afterwards the broadcast gets posted as a podcast so those who missed everything can then listen to what they didn't get to participate in.
At 4:20 the crowd lit up and the smoke flowed and then everyone gathered around the "speakers" area. Shortly afterwards the numbers were being called out for the many raffle prizes that were made available. Sponsors of these prizes and also the event include Pipe Dreamz Peterborough, Happy Dayz Peterborough, Kawartha Garden Supply, CannaDaze, Peterborough Hydroponics, The Peace Pipe and The Hotbox Lounge.

When we were packing up for the day event organizer Wayne Matheson tells me that he felt that there was lots of local support this year. This was everything from the people to the sponsors and that he'd like to thank all those who were involved. He'd also like to thank the County of Peterborough for permission to use the park as well as to the local police who have never bothered the event in all of these years.


See you all next year…….