LIVE at Lift

By Al Graham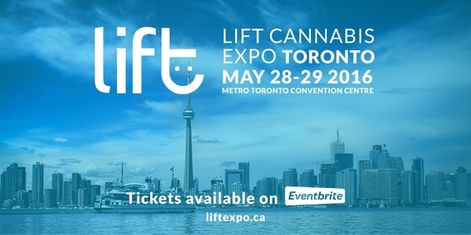 During the years 2010 to 2013 PACE participated in the former Treating Yourself Expo which was an event that brought the cannabis community together. It didn't matter whether a person lived in Toronto or half way around the world, it was an opportunity for people who only know each other through social media or emails an opportunity to finally meet in person.

While it allowed these important meet and greets to happen it was also a great way for people to learn about medical cannabis from those who were involved in it. Unfortunately since the TY Expo ended there really hasn't been anything come along to attempt to replace it, until this past May.

During the weekend of May 28-29 Lift Cannabis brought their Expo to the Metro Toronto Convention Center in the city's downtown which is the same location and the same weekend as the former TY Expo. I'm sure many were glad that it was being held in this location as it is wheel chair accessible and is connected to the public transit system within the city thus making it an easy venue to get to.

While PACE was involved in the TY Expo, this time we were not involved in this event but we did participate in it in our own way and we didn't do it alone.

Leading up to the Lift Expo I spoke with Al Rapp of Lifestyle Radio and Kim Cooper a co-host on The PACE Radio Show about attending but with a plan of doing a live broadcast from there. After some discussion and reviewing what equipment we would need it was decided that this was very possible.

---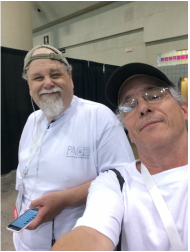 Al and Al meeting for the first time

As I mention above these events are a location or a time where people get to meet their social media friends in person and it was no different for us as this was the first time for Al, Kim and me to meet.

On the Saturday of the event we put our plan into action which was to spend the day touring the expo's floor talking with the vendors and the show goers in attendance. Our first interview of the day happened before we even got inside when Al spotted Sam Mallace standing out front. We talked to Sam for a few minutes about the cannabis producers before Kim's friend Neil came along who Kim gladly spoke to. After speaking with these two we moved inside and made our way to the floor of the Expo.

---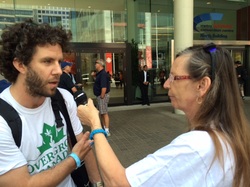 Neil and Kim

When we arrived inside we described to the listeners what we were seeing in order to help them visualize what the place looked like. While not exactly set up like the TY Expo it did have many similarities which includes everything from the carpet on the floor to where the vapor lounge and the stage were located. What was missing were the privacy walls as well some of the vendors that I got to know over time. There wasn't as much glass product but there were more people offering assistance to the licensed producers. The atmosphere was different as well as it was more about companies than about the cannabis consumer which is what TY felt like.

From there we decided that we would walk up and down the aisles talking to the vendors. When we walked up and told them what we were doing all of them were very happy to accommodate us with an interview.

Throughout the day we talked with eighteen different vendors. This would include Brandon May a sales rep for CC Nexus who are Canada's largest cannabis seed wholesaler, Twist Master who had a $35,000 trimmer setup in their booth. We even ran into Matt Mernagh of Peace Naturals who was there helping out with their mobile signing clinic, which by the way was book solid within a couple of hours. We were also able to talk with some of our old friends from the TY days such as cartoonist Georgia Toons and Franco of Greenhouse Seeds.

---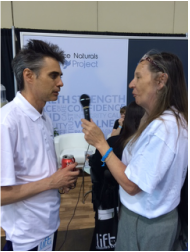 Matt of Peace Naturals and Kim

Not only did Al, Kim and I tour the vending area but we also went in and checked out the vapor lounge. We had walked past it earlier in the day and noticed that people had to prove that they were legal patients but when we arrived to go inside that was gone. All that was left were two security guards and not a single person asking for you to prove your legality. That's right, people were just allowed to come and go as they wanted licensed or not and all the security people did was stand around and get paid.

Once inside we spotted some friends in Deb and Lynda who had entered into the topical portion of the Lift Cup. Kim did an interview with them where they were able to talk about entering the cup to their result which was a third place finish.

---











A sign at the Vapor Lounge entrance that didn't last long


While in the lounge we were able to check out the herb and concentrate equipment that was set up for people to test with their own medication. Yes it was a BYOB, bring your own bud set up. People were able to try out a volcano vaporizer or several small portable units with one that played video games to the top enail equipment in the Errlectic E-nail.

When we left the lounge we continued our interviews with people but this time we talked with advocates such as Fabien Henry of Marijuana For Trauma as well as Lisa Campbell of Women Grow to cannabis author and Dana Larson of Overgrow Canada.

---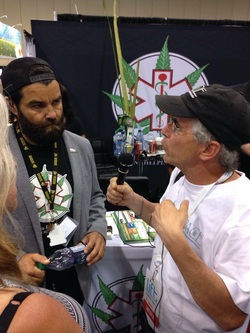 Fabien Henry of Marijuana For Trauma and Al
As they day ended we were happy what we had accomplished and we learned a few things. For me, its keeping that mic close to my mouth and for all of us, doing this for five hours can be physically hard as we all paid for it for days afterward but it was all well worth it.
If you missed the broadcast you can find it at
https://www.spreaker.com/show/live-from-lift-toronto
This event was the second one we have broadcasted live and I know it's not the last one. Peterborough Cannabis Day is next on our list so tune into Lifestyle Radio at
http://lifestyleradio.ca
to catch it and future live broadcast from cannabis events within our area.
---