I hope……

By Al Graham

Fall.. it's the best time of the year. Why? Because there are no bugs, no heat and lots of colour in the trees, it's also harvest time for the outside gorilla grower.

It's the time when, for some, almost 6 months of work will come together. While a few bunk out in the woods others may have just walked over to their vegetable garden. I'm sure many went for a warm spring walk and only returned to the location in the fall. I hope that the lack of attention didn't turn out bad for you.

I know of a person that who watered their plant, yes singular, while they watered their other vegetables. This person told me that they had some concerns about growing their plant but they were also concerned about the cancer that runs through their body. Why should a person with cancer have to worry about growing one plant? Why do they need that extra burden?

For those of you who worked hard all season grooming your outdoor garden I hope that your efforts were worth all the hard work. I hope that the rippers, those who steal cannabis, never stopped by for a visit. I've heard some say that their fenced in gardens had the top cola's stolen from them. Don't these people realize, the plants that they are stealing are more than likely someone's medication? This person who's growing their plant for cancer would have been devastated to have it stolen. It was a daily thing for them to go out and water it while they watered the vegetables. They learned to pinch it and keep it clean and in the end created a bond with it. It's one of those things that you only hear about… how beneficial growing can be for a patient.

---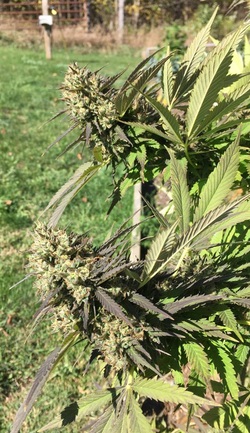 For those of you who bunked out in the woods and endured the rain to cool fall weather, I hope your health is good and that you're not suffering from a fall cold. To both you and the walker I hope the damp fall weather didn't cause your precious buds to go mouldy or like the outdoor home grower that no rippers passed by your garden. I also hope that the deer or other wildlife didn't stop in for a snack and leave you nothing. I hope that you found some sunny days to bring in your harvest to some warm ones if you had to trim outdoors.

Gorilla gardeners, I hope you respected the land that you used or may have borrowed. I hope that you only took pictures and left only foot prints. Because leaving behind empty bottles to pails, that you may never use again, isn't being nice to anyone or anything. So I hope you brought your garbage home with you.

I hope your harvest was plentiful and that it lasts you until the next one. I hope it's dried and cured properly so when you go to use it, it hasn't gone fuzzy.

Will the laws every change? They seem to be but very slowly and people are being arrested. Will the process speed up and will people no longer be arrested for cannabis?.... I hope.


---