Global Marijuana March 2016 – Toronto
By Al Graham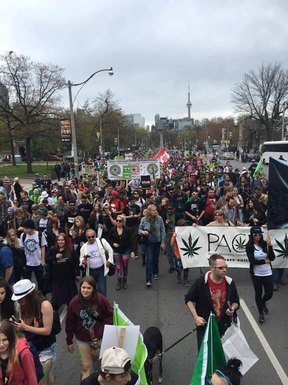 Over the last many years I've attended the annual Toronto Global Marijuana March (GMM) as a cannabis patient advocate. I've gone there to be part of the march each and every time but there were times that I was there in a dual role. A few times I did it for Treating Yourself Magazine but there was a time where I also reported on it for my friend Diesel Phillips.

Diesel, who at the time was a weekend DJ at a local radio station, was also a cannabis supporter. With an opportunity to help educate people about it he created The Flower Hour that would air Saturday or Sunday from 4-5pm. During this segment he would play psychedelic music with some of it containing the word cannabis in them or themed that way.

There was also his buddy Jay Blaze who'd call and talk about the latest movie to what he had been doing lately. Following him was my "Reefer Report" where I spoke live about some cannabis news to the latest events. This is when I had my opportunity to report from the GMM. For me it was my first live on location report and it was something that I really enjoyed, even though because of the loud music, I had to leave the park to make my call.

I hadn't an opportunity to do something like that since then that was until recently. The long streak ended when I attended the 2016 GMM in Toronto and I was able to set something up with Al Rapp, the man behind Lifestyle Radio. For this year's event I attended with a microphone, two sets of headphones and one hand held microphone which all plugged into my cell phone.

After some planning with Al he invited his co-hosts from The 420 Radio Show (Marcel Gignac and Laurie MacEachern) to join us for a conversation that would up being 4.5hrs long. We all decided to just let things flow. We'd talk about the march and do some interviews and if we needed a break we'd play a song and commercial set.

Once we were all ready to go Al hit the live switch shortly after noon. With a few advocates in mind to talk with it was decided I would just be free to get a guest and the crew would join in with questions. My friend Erin Maloughney offered to be our first guest and a fine job she did in getting things started. I've never interviewed Erin before so I was surprised she would be the first of many. Following her was patient advocate Sandra Petite and Michael Thomas of Dads for Marijuana. I could have stuck to the same spot all day but the plan was to move around and that we did.

---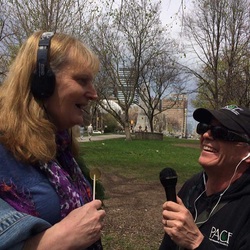 From there we interviewed people such as Tracy Curley and Matt Mernagh before we talked to some of the vendors to get their feeling on the march to seeing how business was doing. One person I did seek out and had the pleasure to meet was Anthony Foster of Hamilton Vape. Anthony and I had never met but he reached out to PACE a year ago for some therapeutic cannabis information so he could share it at an event he was involved in. This past spring he was sent more information that he gave away at the Hamilton 420 as well as at the GMM. It was good to talk to him and hear about the good things he was doing. While finding these things out I also got to meet his mom, who was a very joyful person on this day. It's good to see the family working together.

---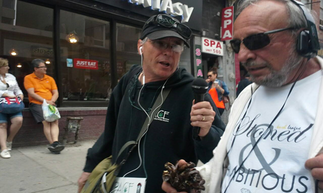 The next thing I knew was that the march had already started so I rushed along to catch up to it. Along the route I was able to talk with people such as Sam Malace, Danielle Dabs and people who I had never met before. One of these people was a guy who had a portable dab cart in tow. He told me that business was great and that he couldn't believe he had dabbed people out on the roadways in downtown Toronto.

---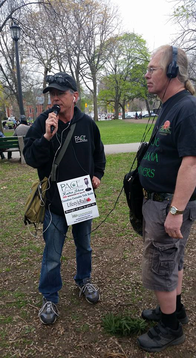 When we returned to Queen's Park we continued the interviews and were able to talk with people such as Naomi Poley, whose interview was broadcasted live on Youtube during the 420 to Terry Parker Jr, Tracy Lamourie and a few others.
Throughout the afternoon we were able to give away some free gifts from
Nexus Cannabis Seed Wholesalers
and bring the
Lifestyle Radio
listeners the sounds plus help them visualize what was happening all day long. My friends Laurie and Marcel who co-hosted the show have never been to Toronto's Global Marijuana March but on this day they felt like they were. Those we interviewed were very supportive and believed that what we were doing was a great idea.
---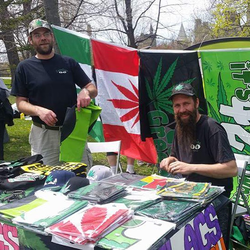 In the end our mobile LIVE radio set up successfully interviewed twenty three different people who were patients, business owners to the recreational consumers over a 4.5hr period. With this success we plan on doing more of this in the future. A big thank you goes out to all those we interviewed and to Al, Marcel and Laurie for being part of this very special day.
If you missed the action and want to hear how the day went, you can catch the entire march and the interviews at
https://www.spreaker.com/show/interviews-and-specials
or at
http://pace-online.ca/the-pace-radio-show.html
---