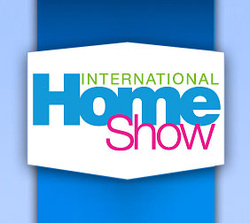 Flashback – October 2006
Treating Yourself @ The Home Show
By Al Graham Originally published in Treating Yourself Issue 7

This year Thanksgiving got a new meaning for me. Not only did I get to spend time with my family but I also got to spend some time with my extended family. My extended family would be those of you, like myself, who are sick and use cannabis as a way to treat your ailment.

I also spent a lot of Thanksgiving helping out Marco and Treating Yourself Magazine at their information booth held during the Toronto International Home Show held the International Center in Mississauga Ontario. A home show and marijuana, how do they mix? Actually very nice I must say.

It all got started when a great friend of many medical marijuana people by the name of Lady Di asked if I was interested in going to Mississauga to help out at the Treating Yourself booth. Help? How would I help a booth at a home show? Never mind helping out, I was worried if I could take a day of standing? Could I make it throughout the day before my energy can out? As a person who suffers from Crohn's, I then add on bathroom and eating concerns and would we be allowed to medicate even though we had exemptions?

On the Friday of the show, Lady Di and I met up and made our way to the show. We were also meeting up with Sonnyboy for the day. We were hoping for a good reception to the booth for all involved. When we arrived Marco and Soulmate were already at it hard and it looked like they needed some help. The booth was covered with people looking for and getting much needed information.

When we got in and settled down I quickly learned how I was going to help and help I did. Marco had 20,000 copies of Frank Discussions Top 10 Cannabis Facts that all Canadians need to know. Also spread out on the 2 tables in the booth, was every issue of Treating Yourself Magazine, 2 Volcano's, volcano information and the TY Stinky Pumpkin.

---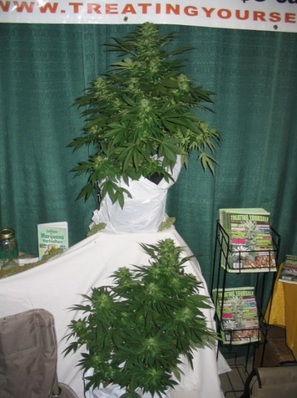 The two most attention drawing items were in the middle of the booth, their base all wrapped up in a decorative blanket and sitting high for all to see. The fully into bloom, big cola'd Hash plants drew the biggest gasps and awe's while I was there. People even screamed in excitement and then yell gleefully "is that a pot plant?" Of course we got to answer this with a big smile on our face "yes, would you like a closer look?" The people who had never seen a marijuana plant before were really eager to take a look and even have a smell. Then to hear them say "what's all the fuss about. It looks pretty harmless to me" was nice to hear.

As Soulmate and I handed out brochure's it was almost comical to see people as they walked by. You could watch them walking the aisle as they made their way along, reading all the banners over the booths. Then they got to TY's booth and read the banner stating "Promoting the Respectable and Responsible use of Medical Marijuana" and huge smiles would quickly appear on many faces. The people were also very receptive to our handouts. Many would read the heading on it and stop, turn and take a look. Then walk over for more information. While others read the heading, folded it over and put it away to read later. There was even one guy I handed it to and he said "you don't need to sell me on this, I'm in law enforcement and I support you 100%". Then there was a mother that was walking along with her kids, she read the overhead banner and then told her daughter to take the handout. Obviously, she was a mother who is educating her children, with the truth and not government propaganda.

While Soulmate and I were busy handing out the brochures Marco, Lady Di and Sonnyboy were busy teaching people the medical benefits of the Volcano. Explaining how a vaporizer works was non-stop occurance. Sonnyboy and Marco would each put on their own demo as one did it with medical marijuana and the other with plant matter removed. The people were very interested as they watched the bags fill up with vapors. Some people would question the appearance but once you explained the process again and compare it to steam in a bag, they understood better. With the booth being so busy there were several demonstrations and a lot of medicating going on, which to me was very beneficial. There was no way that I could keep up with everything without medication.

We were told "I heard about you guys and I had to come check it out" by so many people. This made me aware that we were making an impact. People were talking and spreading the word about the booth and its whereabouts. I couldn't tell you how many people come out of their closets to talk to us because it was uncountable. There were young people questioning us but I'd say our crowd was more middle aged to older people and not the criminal element that it's so much associated with in the media. People wanted to know more and more information so we gave them what they asked for. We talked education, we talked health but most of all we talked the truth.

When people would bring up the concern about smoking not only did we give them a demo on the Volcano but we also told them about butter. As it turns out not many people have heard about making butter. Of course we gave them a good description on the process of butter making as well as showing them the process in one of TY's editions. We would explain to people how medical users get the pain relief from eating eatables. Of course they would want to know how they could use the butter. They were quite surprised that you could make scalloped potatoes, put it your vegetables, cookies, cakes and even toast with marijuana butter.

---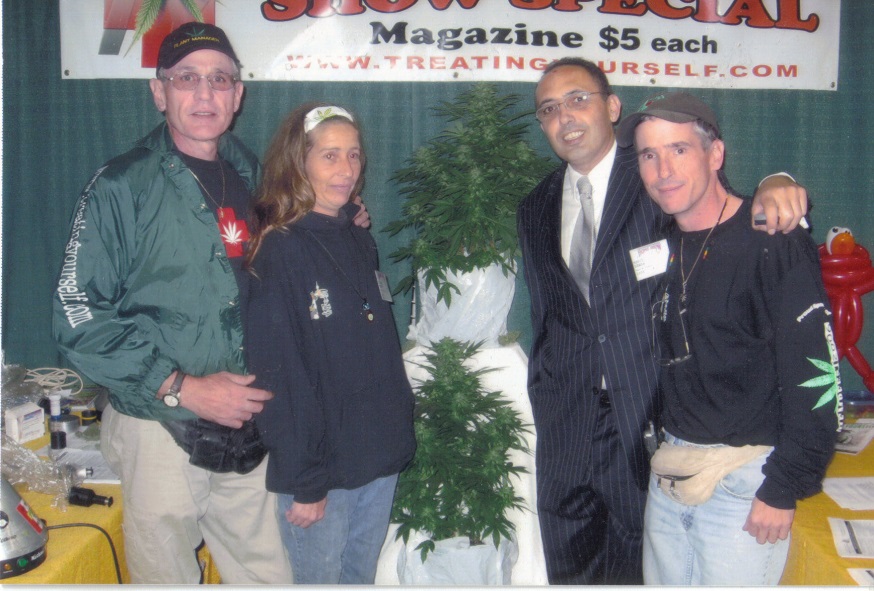 As you talked with people and they felt more comfortable, their questions would go deeper, wanting to know more and more. To have people come up to you, who I believe would normally ignore you and keep them fascinated by your teachings felt good to me. To have people saying "thank you so much" in an appreciated way made me feel very good inside. I'm very thankful that I had such an opportunity to speak out loud. Lady Di said it best as "we are very proud to be part of something so important and so wonderful, how could we not come out for such an important event. I'm so proud for what we accomplished this weekend" Thoughts echo by all involved.

I know for those that were in attendance this weekend it was wonderful event. I know I will be back for the next show in March 2007.