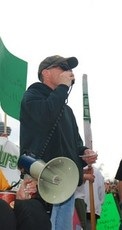 Eliminating The Competition?

By Al Graham

For the last three years we've been hearing Justin Trudeau talk about legalizing cannabis. He's talked about how it has to be controlled and regulated but has kept his plans close to his chest. He's told us a few things such as he'd rather have the money from cannabis sales go towards the government and not the criminal element. He has told us whomever works outside of this framework will be dealt with severely. But for some reason he wants us to wait until 2017 to learn how it's going to work but when will it start? Will it be six, nine or twelve months later? Meanwhile 50,000 Canadians a year will continue to get criminal records.

Recently here in Ontario it appears that corporations and our provincial government want to change the way that cannabis has been used by patients for many many years.

The first example of this happened in late May when the Toronto Police raided 43 cannabis dispensaries in the city. One would think that these locations were raided because of them dispensing cannabis but nope. During the police news conference they claimed that the raids were done to protect the citizens from products without labels. Think about this, should any police force use valuable resources and take officers from doing their regular duties in order to bust people for improper labeling? Dispensaries have been around for many decades and during this time no one has died from using their products. So why after all these decades are unlabeled products now a concern?

It all seems a bit over handed to me and others with many believing it was done because the licensed producer had been lobbying local governments to shut the dispensaries down. During the news conference the advocates asked the police, "where are the victims?" but the response came as silence.

My second example is with Ontario Bill 178 that passed its third reading recently and is a law that will close down vapor lounges. It's already claimed some victims as 420 Sessions in Kingston and Vapor Social of Toronto have already closed or have announced their closing. Once this law is enacted medicating cannabis consumers will be forced to consume their medication where ever people smoke deadly tobacco. That's correct Bill 178 lumps cannabis, medical or otherwise into the Ontario smoke free laws which has left many people scratching their heads. It makes me ask, what proof do they have showing cannabis is as dangerous as tobacco and that's not just smoked cannabis but also when its vaporized. Are laws no longer based on evidence or are they made on public hysteria? With Bill 178 it's clearly based on hysteria because when the Ontario government announced in November, that patients could medicate in public, they said that their legal counsel told them that banning cannabis publicly will lead to a constitutional court challenge. The public flipped out picturing patients medicating in McDonalds to the swing set on the playground so the government back tracked. In the end like all of our cannabis rights, this one will also have to be won in a court of law.

So with the raids at the dispensaries and the new laws being made against cannabis are people in authority positions and lobbyists trying to eliminate the competition before legalization?


---