CannaDaze Grand Opening

By Al Graham

It all started as an idea and some would call it a dream but for Wayne Mathesen it did became come reality. What started out as a knapsack full of flags is now a retail space full of pipes, bongs, dab gear plus much much more. Oh and those flags, he is still selling them as well.

To get things going Wayne could have gone to a bank or somewhere else to get the capital he needed to get things going but he chose not to. Instead he built things from the ground up. This would include running the highway to attend flea markets to setting up shop at events he arranged such as the Peterborough 420 and Cannabis Day Peterborough or by making the journey down the highway to the cannabis events being held in Toronto. Those long highway drives and early mornings have now been reduced or eliminated with the opening of his retail store in Campbellford ON.



Back in early April of 2016 Wayne had secured his location, checked with a town official to make sure there would be no issues (licensing to bylaws) and was told there was none by the municipalities planning director. With this approval Wayne informed the press about his new store and got featured on the front page of the local paper. Unfortunately for Wayne days later one of the municipal bylaw officer called to inform him that he was not allowed to open his business. Why, because the location which had retail space below 2 apartments, had just added third apartment in the rear. This third apartment was created by reducing the retail space which Wayne knew about and had no problem with unlike the bylaw officer.

After nine months of delays and having to meet everything the bylaw officer requested (4 layers of fire proof drywall, sound barrier, fire proof caulking in all holes even inside electrical boxes, separate hydro meter, new gas meter and location plus a new furnace to heat the building) Wayne was finely given the ok to move in. We did find it odd that this space had prior approval to be an office without this work being required.

Once he got moved in he proceeded to put his plan together. In came some new to him glass cabinets, the big screen TV, the shelving units and the product orders. Over the next while he was able to put everything together and have his Grand Opening on March 10/17.

No new business would be complete without a ribbon cutting ceremony and no ceremony is complete without dignitaries. For Wayne's ceremony he was met by representatives and presented with certificates from the local BIA, the Chamber of Commerce and the Municipality of Trent Hills. Joining them were reps from the local MP and MPP offices.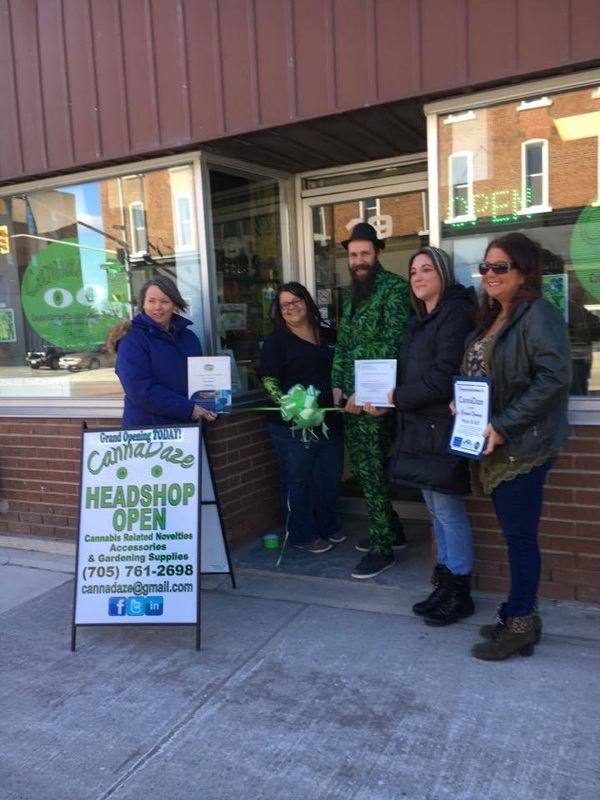 To help Wayne celebrate and to let others know about the store The 420 Road Show broadcasted the opening live at 420Radio.ca. During the day they were able to talk to Wayne and Eamon who was in helping out for the day, plus the guests that appeared on the program which was heard within the store. These would include Justin Loizos of Just Compassion, cannabis writer and author Gooey Rabinski, Anthony Foster of the Hamilton Vapor Lounge, Kirk from Gizeh rolling papers and Ross Middleton of the Canadian Therapeutic Cannabis Partners.

So far the reception to the new store in this small town has been very good. Many of his customers have come in and asked him "what took you so long?" and this isn't just the early twenty something crowd but also the mature aged ones as well. Because he'll attract the mature crowd that may use walkers etc and other patients he wanted to make sure he was street level. With this store being ground level and without any steps to get in, it makes it very good for those who need assistance getting around thus making it very patient friendly.


CannaDaze is more than just a bong shop. Yes it carries bongs but Wayne also carries rolling papers, dab and rig gear along with growing equipment and nutrient supplies. As he says he carries everything but the plant itself. Talking about the plant, yes many have topped into see if he is a dispensary and every one of them have let disappointed but happy to know that he could point them in the right direction. With Campbellford being almost an hour from any other store like this it should help those who can't make that long drive or don't have the time to do so.

CannaDaze is also the home of the PACE Information Center as Wayne supplies PACE with a corner at the front of the store. The PACE corner has information that is handed out via an educational links brochure, past issues of Treating Yourself Magazine and help patients get legal access to cannabis medication. This corner of the store is also the home of The PACE Radio Show. The window spot allows those who walk by to peer in and see the broadcast being held at which time they are invited into get involved in the conversation.


There are still many that are hiding in their cannabis closets and Wayne has a solution for those who don't want to speak up. He says "Have a voice without saying a word" and he's right and it's so easy to do. Buy and wear an anti-prohibition button or a t-shirt supporting the cause as they can spark a conversation or sends a message to those who read it….. it's that simple.
With winter almost gone tourist season will kick in. Being the store is near a busy intersection and downtown park Wayne predicts that like the cannabis plant, the business and customer base will keep growing.
CannaDaze can be found at 19 Bridge St. W. in Campbellford ON or online at
http://cannadaze.ca