Can they be trusted?

By Al Graham

Whether you're a medical cannabis patient or not we all have heard how politicians and people in authority positions take shots at cannabis. It didn't matter if these people were under oath before the courts or not, towing the prohibitionist message was required. That message would be that growing cannabis is dangerous to people's homes and if you're buying it off of the street you just don't know what's in it.

During the Allard case, the decision why MMAR patients are still allowed to grow under a court injunction, the expert police witness's testified about the dangers of growing in a home. They talked about the mold issues, pesticides being sprayed on plants within a house, electrical panels being bypassed and whatever other disaster you could think of.

Unfortunately for the crown their "expert" police witness was shot down by the patient's lawyers during the trial. It ended up being so bad that the judge in the case, Judge Phalen basically came out in his decision calling them liars by saying that their testimony was "inaccurate".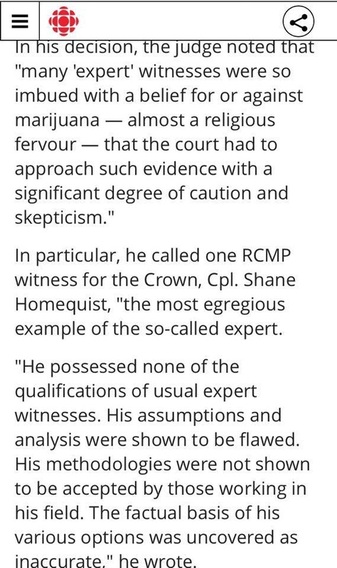 Talking about pesticides and cannabis….we are seeing a lot of that in the news lately. The licensed producers for Canada's medical cannabis patients have been hit with a wave of recalls. Some of these have gone back to February 2016 which begs the question, who keeps their medication for a year? Now we are finding out that this could have been happened as far a back as 2014. This isn't the first time that there have been recalls but it is the most serious one of them all. While the first ones where over labelling issues to possibly having bacteria, these more recent recalls have to do with pesticides.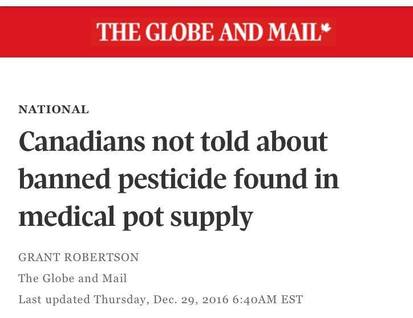 While Health Canada does allow some pesticides to be used this recall is because companies have been using a product called myclobutanil. While its used on other products it that hasn't been approved for use on tobacco or cannabis. Part of this is because myclobutanil turns into hydrogen cyanide when it is burned and is listed as a carcinogen. When smoked, it can get into the bloodstream through our lungs. Then once inside our bodies it can interfere with how oxygen is used and may cause headaches, dizziness, nausea and vomiting. Larger amounts may cause gasping, irregular heartbeats, seizures, fainting and even possibly death. Some people are also reporting problems such as weight loss, nausea, vomiting, throat irritation and respiratory tract irritation. Oddly some of these are similar symptoms to a health condition that many have never heard of called Cannabinoid Hyperemesis Syndrome. Could it be that this condition is actually being caused by the pesticides and not the cannabis plant?

When it comes to expert witnesses we expect the truth, but in Allard no one could believe the police experts who testified. With the government, authority positions and licensed producers always spreading fear about possible chemicals on "black market" cannabis, it's never good when the accuser end up being the fear that they themselves promoted.

Why it is those who are supposed to be protecting us seem to make life more difficult and one has to ask, can they be trusted?