Applied Equally?
By Al Graham
I was recently involved in a discussion with a few people about cannabis legalization and the dispensary raids in Toronto. As everyone is aware things all got started with the Project Claudia raids. Who couldn't with it being splashed
all over the news
? What many may not know is that they haven't stopped but without all the fanfare of the big raids is gone. But here in Ontario it's not only happening in Toronto but it's also happening in the smaller centers such as Barrie, Hamilton and Peterborough. The odd thing is that the numbers are not dropping like those in authority positions would like. Some even say there are more dispensaries now than before the raids started.
While these raids have happened the Durham region near Toronto has threatened to close down the shops there. What's really odd about this region of the province is that according to the Durham Regional Police (DRP) one of the dispensaries is a legal one. That's correct, legal. It's been owned by one of their officers and to add to it,
the department had to give him approval
before the officer opened the door. Not only was this officer given the approval to operate but he also was commended several times for arresting others for doing what he was doing, selling cannabis. One of these was "an award from his force for police work that involved seizing more than $530,000 of marijuana during just seven traffic stops."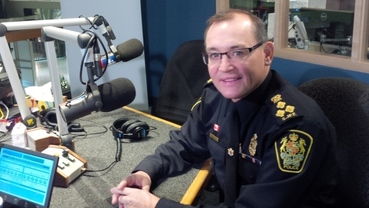 When it comes to the province of New Brunswick, the Saint John Police say that they have "
bigger fish to fry
" such as society issues that include panhandling to vagrancy. The police there may not like what the dispensaries stand for but they wonder if they are "insufficiently defined for the Saint John Police Department to act." Chief Bates of the local force says that "in the big scheme of things, it's a pebble in my shoe compared to the other things we're trying to deal with as a police force in this city,"
Then when we fly to the west coast we have the province of British Columbia with not one but two cities,
Vancouver
and
Victoria
have created and set up regulations to allow the dispensaries to operate. That's right their city isn't clamping down or raiding them. Instead they appear to be more open to allowing them to operate but with some conditions. While I don't know all of the conditions I do know that they don't and won't make everyone happy. This is something that the Toronto area dispensaries have requested and after months of delay they will try again near the end of September.
In the end we have the East Coast with the Saint John Police in New Brunswick saying that they have more important things to deal with. In Ontario, the Durham Police Force has approved a cannabis dispensary for one of their officers while the rest of Ontario gets raided. Meanwhile over on the on the west coast cities are setting regulations to allow dispensaries to operate. The problem is that all of this happens in one country with one set of federal cannabis laws, laws that are to be
applied equally across our country
. I have to ask, do you think that our Canadian cannabis laws are applied equally?
"Equality is one of the most important values in Canada. Everyone in Canada is equal under the law. Laws in Canada apply to all people, including the police, judges, and those who work for the government." Fundamentals of Canadian Law
---